¿Cuándo usamos el Pretérito perfecto o indefinido en español?
Una de las dificultades comunes entre los estudiantes de español es saber diferenciar cuándo usar el Pretérito Perfecto y el Indefinido.
PRETÉRITO PERFECTO
Usamos el "Pretérito Perfecto" cuando hablamos de acciones o cosas relacionadas con el presente: el día, la semana, el mes, la Navidad. Por ejemplo:
He trabajado mucho esta semana / I have worked a lot this week.
"Esta semana", todavía no ha acabado la semana.
PRETÉRITO INDEFINIDO
Usamos el "Indefinido" cuando no estamos hablando de acciones o cosas relacionadas con el presente: un día, una semana, un mes, una Navidad, en 1984, esa vez, ayer. (La información no está relacionada con el presente. Se termina)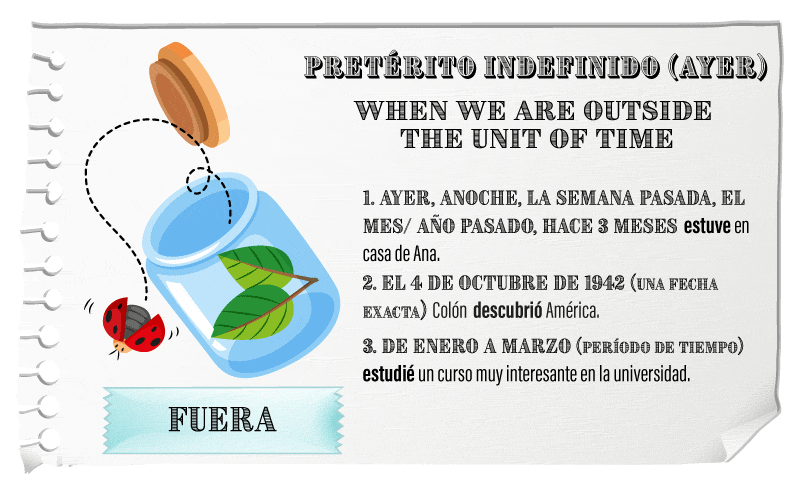 Algunas palabras que nos indican el uso del "Pretérito Perfecto" son:
Hoy.
A las 4, a las 6.
Esta mañana, Esta tarde, Esta semana.
Este mes, Este año.
Este invierno, Este otoño.
Todavía no, aun no, ya.
Hasta ahora.
En mi vida.
Nunca.
Por fin.
Siempre.
¿Alguna vez? / ¿Cuántas veces?
The common signal words that indicate the "Indefinido" are:
Ayer, Anteayer.
El otro día.
Anoche, Anteanoche.
La semana pasada.
El mes, el año pasado.
En + año/mes.
Hace+ cantidad de tiempo + que + indefinido.
¿Qué opinan nuestros alumnos de nuestros cursos de español?
---
Estas son algunas de las opiniones de nuestros alumnos. ¡Los premios nos los dais vosotros!